Ensure you choose the right glove to stay safe
Disposable gloves are essential to protect workers within many industries, protecting the skin and helping to prevent contamination. We have put together this guide to help you make the right choice when considering what disposable glove to order for your business. There are a wide variety of gloves available, made from different materials and the choice can be daunting. Let this article help you make an informed decision as to what is your best option.
So, what are the main glove types, what are their differences, and appropriate uses?
The four main types of disposable glove are Vinyl, Latex, Nitrile and Polythene. We will not be covering Polythene in our article in great depth as we do not stock them here at PWS.
WHY DON'T YOU STOCK POLYTHENE GLOVES?
Polythene gloves are very thin and made for light-duty tasks that require frequent changing of gloves, however, they shouldn't be worn while working with chemicals, for medical work or any job that requires a high level of sensitivity, dexterity and precision. Because their uses are so limited, and with other, preferable glove types available with a larger range of applications, Polythene gloves are not a product requested by PWS's customers.
VINYL DISPOSABLE GLOVES
Vinyl disposable gloves are a good option for general, short-term use. This material is synthetic, protein-free and non-biodegradable, containing polyvinyl chloride and plasticisers (added to PVC to make gloves flexible and comfortable). These gloves are popular in the food service industry, including food preparation, cooking and serving. They are most suitable for:
Low-risk procedures
Food preparation (except fatty food)
Those looking for a looser, more comfortable fit (thinner than latex)
Lower budgets (one of the most affordable types of gloves available)
Working with non-hazardous materials
Those with latex allergies (latex-free)
Shorter tasks that still require some level of protection
Chemical-free janitorial tasks
Procedures where frequent glove changes are required
Vinyl gloves do have some limitations, however, making them unsuitable for high-risk activities. These limitations include:
Limited protection against chemicals and disease
Can be broken down by fatty foods (the oils can cause the gloves to become brittle)
Low resistance to punctures and chemical stress (not suitable for hazardous substances)
Overall, vinyl disposable gloves are best suited for those carrying out shorter, low-risk tasks such as dishwashing or food preparation. They should not be used for handling potentially hazardous chemicals as they offer limited protection in this area.
LATEX DISPOSABLE GLOVES
Latex disposable gloves are made of a biodegradable material, produced by the latex from rubber trees. This material is versatile, useful for most low-risk applications. They do, however, contain a protein that can cause allergic reactions in some people. Latex gloves are most suitable for:
Low-risk procedures
Those looking for a more snug fit (highly elastic and flexible)
Longer tasks (strong, resilient and more comfortable to wear)
Tasks that require precision – latex gloves have been described as a "second skin", ideal for procedures requiring a steady hand
Preventing the spread of infectious agents and cross-contamination
Medical professionals, beauty workers, surgeons and other professions that require a high level of touch sensitivity
Those who want to consider environmental impact (latex gloves are biodegradable)
Handling inorganic chemicals
Despite these benefits, latex gloves do have some cons, these include:
Can cause allergic reactions for some people
Not resistant to many chemicals
Lower puncture resistance than nitrile gloves
More expensive than vinyl disposable gloves
Overall, latex disposable gloves perform better than vinyl gloves for longer tasks, as well as providing better protection against cross-contamination and infectious agents. They're a good option if your business wants to maintain environmental practices as they are biodegradable. However, they offer lower protection against chemicals and punctures compared to nitrile alternatives.
NITRILE DISPOSABLE GLOVES
Nitrile disposable gloves are the most versatile option of the four previously mentioned, being available in a variety of thicknesses and types (e.g., 3mm food service gloves and 6mm industrial gloves). Created from synthetic rubber, they are manufactured without the use of accelerators (carbonates, thiazides, thiurams) which reduces the risk of allergic reactions. They're fit for almost every task, with low dermatitis styles also being available. These gloves are most suitable for:
Low-risk procedures
Food preparation (food safe)
Those with latex allergies (allergen-free, latex-free and powder-free varieties available)
Handling sharp tools, glass and other fragile items (good tensile properties, making them durable and more resistant to punctures)
Those who require waterproof gloves (impervious to water)
Protection against a wide range of chemicals
Protection against biological hazards (including contaminants such as fungus)
Businesses that require gloves for various purposes (available in a range of thicknesses, sizes and colours)
As with every material, nitrile gloves do have some limitations, these include:
Cannot be worn when working with electrics
Users need to check the chemical resistance of the gloves before working with hazardous chemicals (permeation rates will vary)
More expensive than vinyl and latex gloves
Overall, nitrile gloves are the most versatile option for disposable gloves. They're suitable for mechanics, medical professionals, tattooists, laboratory workers, food handlers and more. This is the best option for businesses looking for a safe, multi-purpose glove designed to protect the user from a variety of chemicals, tools and biological hazards. Nitrile gloves are more expensive than vinyl or latex gloves, however, they do offer a higher quality of protection.
The chart below shows the various uses of each glove, as you can see, nitrile gloves are the best all-rounder, protecting the user in all areas except for some high-risk environments.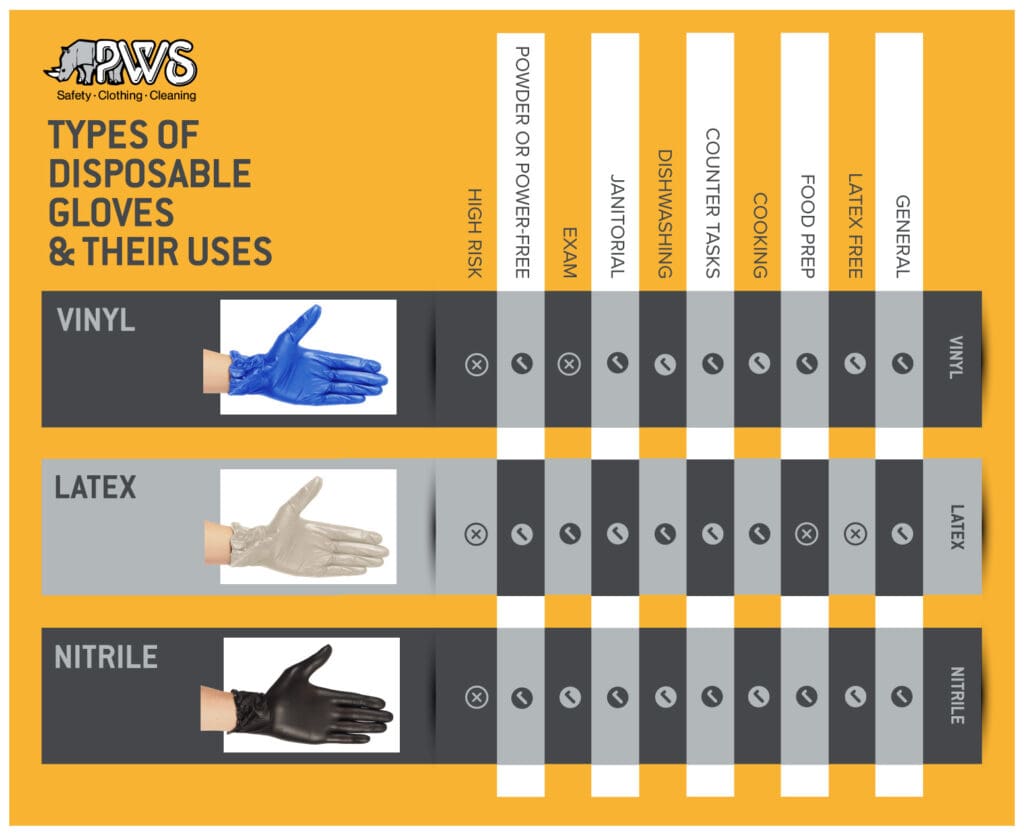 WHAT ABOUT REUSABLE GLOVES, AREN'T THOSE BETTER FOR THE ENVIRONMENT?
If your business doesn't require disposable gloves and you want to limit your impact on the environment, reusable glove varieties are available. Reusable gloves are a great option for protection against various chemicals and harsh substances without the potential allergens. An example of this is neoprene – most neoprene gloves are reusable. Neoprene gloves are suitable for high-risk applications, as well as general use. They offer protection from hazardous chemicals, acids, oils and grease. They're also a very cost-efficient option, however, not as cheap as vinyl.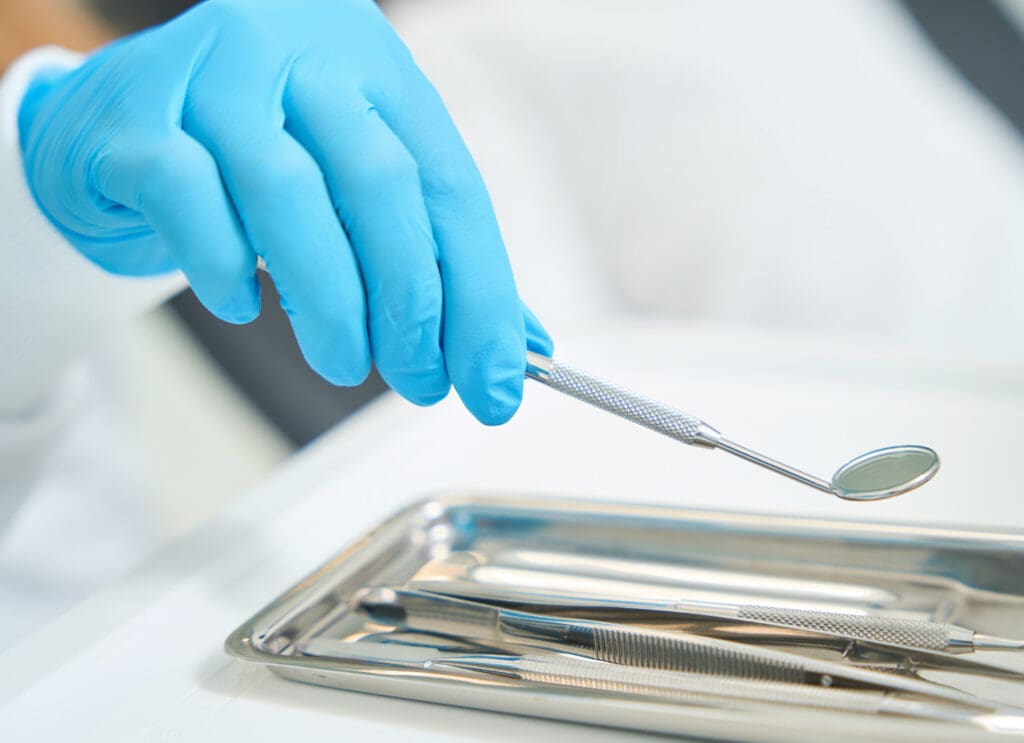 At PWS, we value sustainability and want to ensure that our product range is high quality while considering environmental impact. Disposable gloves will always be required within certain industries for safety reasons, so supplying biodegradable disposable gloves is paramount to our 0% landfill goals. Therefore, we offer 100% biodegradable nitrile, latex-free, single-use gloves to protect the user and the environment. There is no compromise in the quality or performance of these biodegradable gloves, maintaining the same chemical resistant, waterproof, medical grade properties. To learn more about our Biodegradable Nitrile Disposable Gloves, click here.
CONCLUSION
In conclusion, the best disposable gloves are the ones that are most suitable to you. Nitrile gloves are the best all-rounder, offering a high level of protection and durability across a variety of applications. It's important to consider use when choosing the right disposable gloves for your business. For more information or advice, get in touch with your account manager.