What is Punchout Integration?
The term 'Punchout' refers to the process where a buyer leaves their procurement system or ERP (Enterprise Resource Planning) provider, to access the supplier site. The system uses the shopping cart as a basis for creating a purchase order requisition, which then sends it for approval within the buyer's company. After the system approves the purchase, it sends the actual order back to the supplier site for processing. This process should be a seamless, behind-the-scenes communication between the procurement system and the B2B (business to business) ordering portal.
A well-built and integrated P2P (procure-to-pay) system like our own MyWeb can deliver more than this, allowing for 'pre-approval' of garments within set frameworks and for set end user attributes, simplifying and speeding up the process.
How does the MyWeb Punchout Integration system work?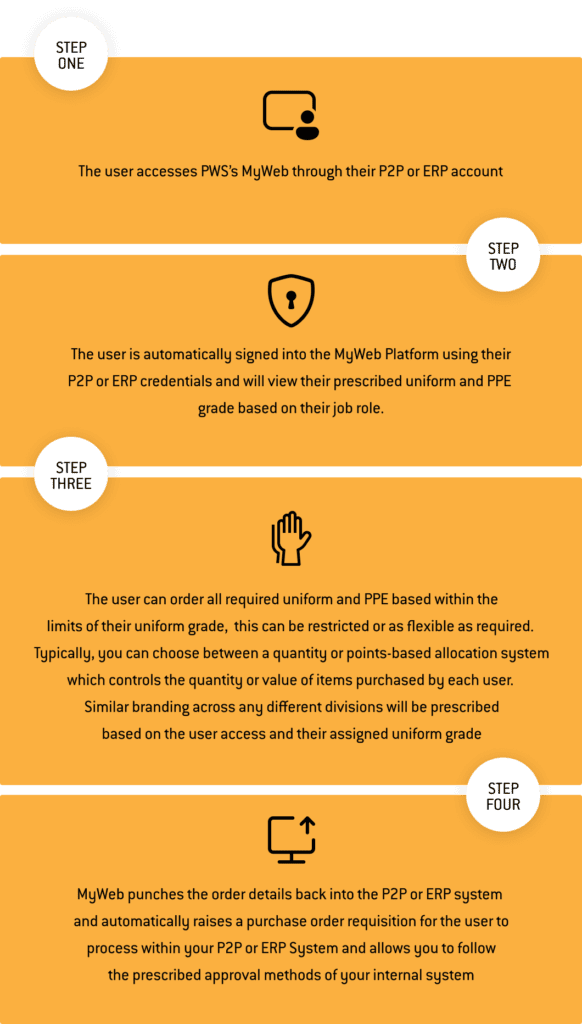 What are the benefits of MyWeb Punchout Integration?
MyWeb is a user friendly, easy to navigate platform, that provides a significantly quicker and easier purchase process than more traditional procurement processing methods. MyWeb offers a modern, adaptive and responsive alternative for controlling your workwear and PPE procurement.
MyWeb's key features include:
Ability to create individual staff logins and budgets with approved item lists, allowing staff to manage their own workwear use.
MyWeb will read the user's P2P credentials, no need for the user to remember additional usernames and passwords to log in.
Orders raised through MyWeb, sync with your system, no need to input the order twice.
Where logoed items are required, MyWeb can ensure the correct logo is embroidered or printed for the individual wearer and department.
All items ordered are recorded against the individual assigned to receive it, making tracking individual staff or department spend easy.
Items ordered can be delivered to a specific person at a specific address or in bulk to one location but individually packed for each employee.
MyWeb is fully responsive for use on computer, laptop, smartphone or tablet
Why should I choose PWS for my Punchout Integration?
We have integrated our MyWeb ordering platform into over 100 clients organisations including some of the biggest housing associations and utility companies in the sector. As a specialist provider with full ownership and control over our MyWeb P2P Portal, PWS have the unique ability to test and integrate the punchout system seamlessly ensuring maximum efficiency in the trading relationship between PWS and our clients.
When choosing a PPE, safety and workwear supplier, choose a company that not only has a market leading Punchout Integration system but that also stocks thousands of quality products, offers expert advice, excellence in service as well as a dedicated account manager. By choosing PWS for your workwear, safety wear and PPE procurement, you can be assured you are in safe hands.
Contact us to find out how we can help your organisation to streamline their procurement process.